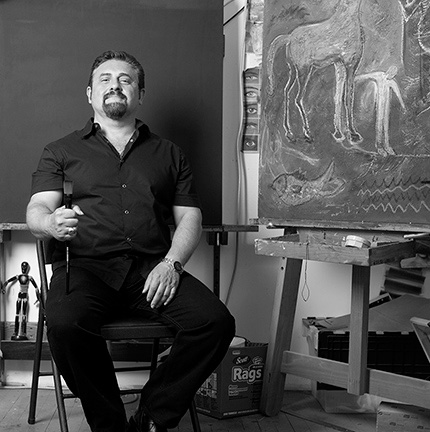 Welcome to my Website
I hope you enjoy browsing my work.
I cannot remember a time in my life that I was not drawing or painting. After my family and I moved to America in the mid 1960s, I was encouraged by teachers and artists to develop my passion to make art. Although I did not pursue a degree in fine art, I mentored first with artist John Grengs, an expressionist who was a big influence in my work. Many artists have taught and inspired me, and in the early years I was exposed to and influenced by modernist artists. In the mid 1990s I decided that I wanted more of a narrative in my work, so I began to draw upon the images that sparked my imagination as a child in Italy, especially carnival and poster art. I began to mix expressionism with images from the early 20th century, and now I am exploring the stylish imagery from 1950s and 1960s American cinema. My work is sometimes a travelogue of the people and places I have been. Although my subjects change, my hand is one of an expressionist.

Thank you in advance for taking a look at my work.   — André

Please contact me by Email: SalvadoreArt@comcast.net or Phone: 651-263-6257 for availability if you are intrested in specific paintings.


Below are some samples of my current work. Many more works are available by following the links above.