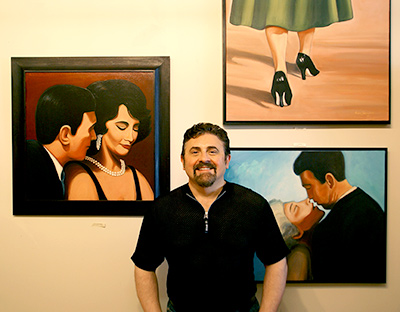 THE TC DAILY PLANET BY JAY GABLER
Walking past paintings of men and women in fedoras and feathered hats, artist André Salvadore tries to explain why he turned away from the abstract style favored by his early instructors. "I had this real deep interest in people, I had this people thing. People interest me!" For nearly two years Salvadore has been based in the Northrup King Building, a converted seed processing facility in northeast Minneapolis that has become the Twin Cities' busiest and most talked-about studio center. The seemingly endless corridors of the Northrup King complex provide working space for over 150 local artists, and each artist has his or her own story.
Salvadore's story happens to include an immigrant journey from Italy, two months living on a Roseville farm, several years spent fronting a glam rock band, and three decades as a professional hairstylist. Art Attack open house at the Northrup King Building, 1500 Jackson Street NE, Minneapolis. Friday, November 7, 5-10 PM; Saturday, November 8, 12-8 PM, Sunday, November 9, 12-5 PM. For more information, call (612) 363-5612 or see northrupkingbuilding.com. André Salvadore's work will be on view in studio 392.
For Salvadore, art was there from the beginning. "It was his first love," says his sister, Franca Lipari, remembering their childhood in Palermo, Sicily. "He would paint right on the walls, and our mother was very good about it. She'd just wash them off, and he'd start again." Carrying only two trunks of their belongings, the family crossed the Atlantic in 1963 when Salvadore's father took work as a tailor in Minneapolis. After ten days at sea, the Statue of Liberty came into sight at sunset. "It was the classic immigrant experience," says Salvadore. "That whole part of my life is like a movie, and I can play back every inch of it." The family's Minnesota connection was Salvadore's aunt, who had moved to America after being widowed during the war and subsequently set up with an Italian-American farmer in Roseville.
At first Salvadore's family lived on the farm, but they were soon able to move out and live independently. "The Italian community in Minnesota was completely diluted by that point," says Salvadore. "There was no real community for us to go to, which was very lonely." Salvadore invokes the Sicilian expression guita una petra to explain what his homesick parents went through. The phrase's literal meaning is "to swallow a rock," Salvadore explains, and the expression is used to convey the acceptance of the unacceptable. "My father swallowed his rock. He bore in." Salvadore continued to draw and paint through his high school years, but he had no idea of how to make a living at it.
After graduating from Roseville's Frank B. Kellogg High School in 1974, he turned to his interest in music and joined a flamboyant rock band called the Banshees. The group built a regional reputation, and several of Salvadore's stage costumes—including a metallic rainbow jacket—are now in historical archives at the University of Minnesota. After years in the group, Salvadore wearied of life on the road. "I just realized that I'm not a gypsy. If you're going to be a musician, you have to want it so badly that you're willing to put up with almost anything. But it was very sad to leave the band. It was heartbreaking."
Meanwhile, Salvadore's sister Franca had become a hairstylist, and Salvadore found that his sister's colleagues were urging him to follow suit. "They said, 'You have a good look, you have a good personality, you'd be good in the business.' They said that eighty percent of your success in the hairstyling industry is about your personality. I was at loose ends, and my sister said, 'Well, why don't you try going to school and see if hairstyling works for you?'" After studying in Minnesota and in Europe, Salvadore was ready to join his sister in the styling business. Today, Salvadore and Lipari are co-proprietors of the André Franca Studio on St. Paul's Grand Avenue. Salvadore never stopped painting, but he was uncertain about trying to balance two careers.
He finally reached a moment of truth after going on what he calls his "art journey." "I went to every city I could get to, went to every museum, walked through every gallery, talked to the gallery owners, and tried to figure out where I stood. After five years of doing that, I realized that anything goes." He started exhibiting his work, and in the mid-1990s he finally took his first art studio. After several years of success in St. Paul studios, he moved to the Northrup King Building early last year.
The style Salvadore has cultivated is theatrical and expressionist: he paints scenes and portraits influenced by the art he grew up with. "I was not exposed to museums when I was living in Sicily—it was poster art and it was carnival art. These carnivals would come through town and they'd hoist these worn, dirty canvases with paintings of trapeze artists. I was in love with that." Having spent many years painting carnival performers, he has recently turned to portraits inspired by Hollywood. "I decided I wanted to explore my childhood in America, and the way I understood American culture in the mid-60s was by watching old movies from the 50s." Salvadore has found an audience that appreciates the intimate, personal quality of his work.
"It's difficult to separate André from his work," says patron Becky Norine. "His work comes from a very young and happy place." Franca Lipari affirms that honesty is an essential quality of her brother and his work. "There's just so much that's truthful about him." Pursuing two separate careers has forced Salvadore to fight charges of dilettantism on both fronts. "If I'm at the salon and I talk too much about my art, then I'm discredited as a stylist. And then if I'm here at the studio and I'm doing shows, everything's hunky-dory until they find out that I own a salon. And then it's like, 'You're not really a professional artist. You have another career.' So being taken seriously on those two levels is a huge challenge.
"Salvadore has sacrificed friendships and free time to establish himself as an artist while maintaining his job as a hairstylist. He cites the "monster in the room" that an artist has to face "when it's ten o'clock at night and everyone else has their feet up on the couch and is watching TV, and you're in some crappy factory freezing your butt off." If his art wasn't essential to him, he says, it simply wouldn't be worth the struggle. "You do it because you love it so much. That's the only way you can deal with the sacrifices you make." Minnesota's capital city served as fertile ground for creating and selling his work, says Salvadore, but when the Rossmore Building and other St. Paul art spaces were lost to condominium development, "the writing was on the wall" and he headed west.
If the Minneapolis scene hasn't quite lived up to its hype ("I expected a real hipster crowd, which I frankly didn't see"), he's pleased to be at the Northrup King Building, surrounded by artists he admires. Salvadore particularly enjoys the building's annual Art Attack gallery crawl, which is set to happen this weekend. "The people who show up are genuinely interested in art. There are fewer gawkers, fewer tire-kickers than you get at Art-a-Whirl." Salvadore dismisses as "market-driven" the suggestion that he find a single theme and stick with it. "It's like, you have to 'own' a blue dog, you have to 'own' a water lily…and I'm not going to 'own' the clown! I'm more than that." Sipping white wine from a disposable plastic cup in true working-artist fashion, Salvadore closes the studio window as a train rumbles past. "To me, art is an adventure, and often it's a travelogue." He gestures at the wall of trapeze artists, divas, jesters, angels, puppets, and mysterious mustachioed men. "I cannot help putting things down in paint, no matter where I might be. So you're going to see some surprises."
Jay Gabler is a writer based in St. Paul, specializing in culture, the arts, and entertainment.
Comments:
Submitted by Matthew J. Martinez on Sat, 11/03/2007 - 13:13.
What a wonderful article. With all the great art in the Twin Cities, stories featuring artists like Andre Salvadore are a gem. Salvadore's story embodies much of what it means to be a global citizen. His art and colors reflect the struggles, happiness and desires of a great work of art. Bravo!
Submitted by J Davila on Sat, 11/03/2007 - 21:42.
What a wonderful story about a great friend. The author has truly captured the passion Andre feels for his work. Bravo!
Submitted by Anna Schwartz on Sun, 11/04/2007 - 00:33.
Andre has been my stylist for almost thirty years…...his art with paints and with hair make him very special. If one wants a hair style that has the precision of an art form than Andre is the one to see. Each piece of art that Andre creates has it's own soul and expression, it has a piece of Andre with it. You need to see his work.